Revealing that the Australians called him a "spoilt brat" during the third day of the ongoing Boxing Day Test at the Melbourne Cricket Ground (MCG), Virat Kohli said that he has no reason to respect those who don't respect him.
Despite sparkling centuries from Kohli and Ajinkya Rahane, which took India to 462/8 at the end of Day 3 in reply to Australia's first innings total of 530, a flurry of wickets in the last session shifted the day towards the home team.
Kohli, who was dismissed for 169 on what turned out to be the last ball of the day, was involved in a heated exchange with fast bowler Mitchell Johnson, after the latter
threw the ball back
at him on his follow-through to try and effect a run out. The tension created because of the incident was palpable throughout the day.
When asked about the verbal altercation, Kohli, speaking at the post-match press conference,
said
: "I told him to throw the ball at the stumps and not on my body. It was not on."
Taking a dig at Johnson, who hasn't been at his best this series averaging a shocking 46.88, he said: "There (at Brisbane) he was batting, and there was no pressure on him as a batsman. That's not his job. His job is to take wickets and he was going at 4.7 an over today.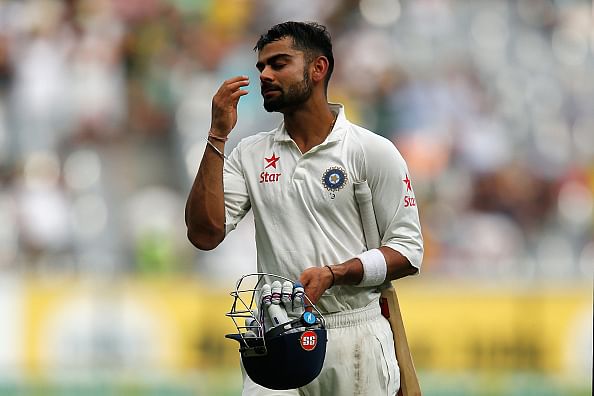 "Didn't get a wicket throughout the day, and I backed myself to take him on even if I keep talking to him. You cannot then back off after saying a few words and then not show it with your skill. I decided whenever he comes on to bowl I will back myself and take him on. I don't mind having a word back neither does he, so we kept going on."
he said, "I respect a few of them. I have no reason to respect anyone who does not respect me. I'm not out there to gain anyone's respect. I'm out there to play cricket."
"They called me a spoilt brat, and I said maybe that's what I am. It seems to be working in my favour and they don't seem to be learning their lessons."
This knock of 169 is Kohli's highest Test score. Although the Delhi batsman has 9 Test centuries in his 32 matches, he has been guilty of not converting them into big hundreds.
When asked about it, he said: "I know I have been criticized in the past for not scoring a big hundred. That was something that I learned to do today. I hope to keep this in my head and do it when I get a chance next time as well."
Aggression is one word you won't associate with Rahane. But coming in at No.5 today, the 26-year-old, whose 147 came at a strike-rate of 85.96, matched Kohli shot for shot and eventually ended up scoring at a much higher rate than that of his partner.
On the Mumbai batsman, with whom he put up a record 262-run stand for the fourth wicket, Kohli said: "It was pleasing to see how Jinks batted today. I was a little surprised with the way he took on Johnson (against the second new ball) but it was good to see a batsman backing himself. At no point did I tell him to hold back and it helped that we were both thinking on the same lines."